Writing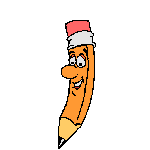 Spelling Priority Words - Grade 3
We are working on many forms of writing this year including paragraph, letters, poetry, and stories. We're working hard to become descriptive writers.
At the beginning of the year, we will review the components of a good paragraph. We will be looking for an introductory sentence that gives the topic of the paragraph. We use the phrase main idea when talking about this sentence. Several sentences should follow that support the topic sentence. Last should be a concluding sentence that ties it all together.
After concentrating on paragraph formation using a narrative format, we will explore expository (non-fiction writing) and then persuasive writing in Nov. and Dec. Each of these types of writing has a place for transitions from paragraph to paragraph as well as details and supports. For more information on these forms of writing click on the name.
Narrative
Expository
Persuasive